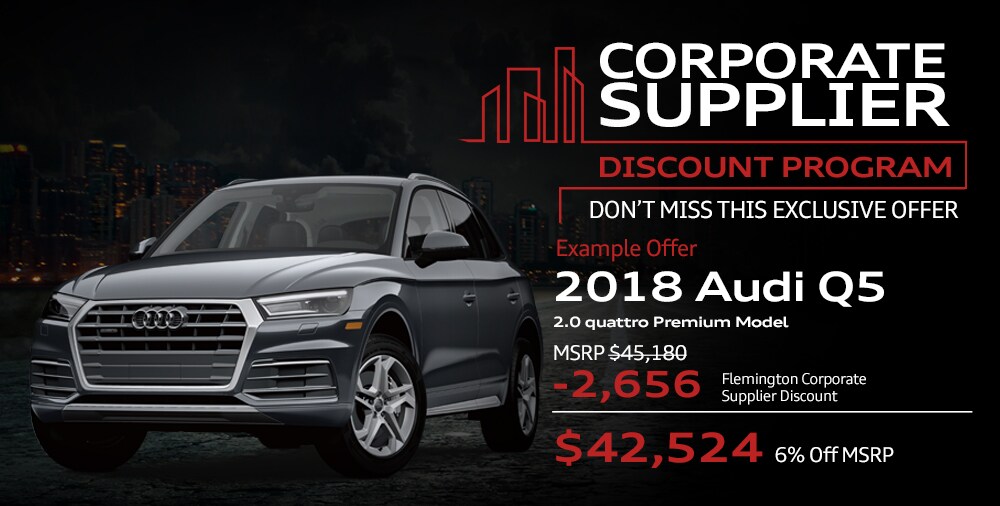 Flemington Audi would like to invite companies such as CITI Bank, HERTZ and FED EX and their current and full-time employees to participate in the Audi Supplier Program as valued business partners. Through this program, individuals will be able to purchase a new Audi vehicle at a special price. If you're interested in this program, we have provided details for you to learn more. You can also come see us at 213 Highway 202 in Flemington, NJ to meet with one of our helpful team members
How It Works
Bring an original, unaltered certificate into Flemington Audi and one of our associates will verify by referencing to this certificate, your valid government-issued identification and current pay stub that you are an eligible candidate. At that point, we will be authorized to sell you the eligible vehicle at the price currently specified by Audi of America under this program.
Eligibility
Full-time and current employees who work directly for an Audi Supplier and current Audi Club of North America (ACNA) members are able to participate in the Audi Supplier Program.
General
Unless there has been an advance written notice to the contrary, in general, all new and unused Customer Contact MY 2014, 2015, or 2016 Audi vehicles, excluding RS5, RS5 Coupe and Cabrio, Audi Q5 Hybrid, RS7, A8 W12 and R8 are eligible. These vehicle may be sold at our discretion from our stock or factory-ordered. Flemington Audi is not required to sell you a vehicle from our stock that is in short supply and may order it from the factory. Please be advised that Audi of America may from time to time restrict the availability of certain vehicles under this program. In such cases, Audi of America will inform Flemington Audi in advance in writing of the terms of such restrictions or incentives, and Flemington Audi will have to comply with any and all terms.
Incentives
All applicable retail incentives apply toward the program.

*The participating Dealer also may sell you parts, accessories, finance and insurance products and other items in the same manner as any other retail purchaser. Participating Dealers may take vehicles in on trade and may acquire and dispose of such vehicles as in any normal retail transaction on such terms as they choose. All the transactions contemplated by this paragraph are strictly between the purchaser and the participating Dealer and are to be negotiated solely between the Dealer and the purchaser. Based on delivery date. In becoming an Audi customer under the terms of this program, the purchaser acknowledges and agrees to receive information and other special communications related to Audi products (e.g., Audi welcome kit, Audi Club North America membership application, Audi Magazine subscription). We may share purchaser's personal information with Audi affiliates, as permitted by applicable law. If we do share purchaser's personal information with our affiliates, we require them to limit their use of the information to the purposes for which it was provided. Audi of America's decision is final in all matters relating to this program. Audi of America has the right to amend or cancel this program at any time for any reason.
Make an Inquiry
Companies
ADP INC
ADT SECURITY
AEROTEK
ATLAS COPCO NORTH AMERICA LLC.
AUTOMOTIVE RESOURCES INTERNATIONAL
BANK OF AMERICA
BASF CORP
BENJAMIN MOORE CORP
BEST BUY
CONVATEC
CRP INDUSTRIES
CITI BANK
DHL
EXXON MOBIL
FED EX
FOREIGN SPECIALTIES
HERTZ
HONEYWELL
INVENTIV HEALTH
LIBERTY MUTUAL
MAERSK INC
MAN CAPITAL CORP
MERCK + CO
MERRILL LYNCH
NOVARTIS PHARMACEUTICAL
REMAX
SANDVIK
SIEMENS
TELERX
VERIZON
And Others